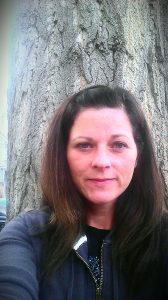 A self-pronounced "Bug Geek," Jenni Sorrentino has always had a fascination with microbes, viruses and bacteria. It's no wonder that this interest has guided her through her educational and professional paths of biology and environmental health. After receiving her undergrad degree in biology, Jenni initially thought that her love for animals and biological processes would be best pursued in veterinary medicine, however, she soon realized that the operating room was not for her and that's when she moved to Fort Collins, from Texas, to pursue her master's degree in environmental health at CSU. This experience, combined with her experience working as an environmental health consultant, along with her food safety certification, have allowed her to be an essential asset to the FoCo Cafe team.
We have Facebook to thank for sending Jenni in the direction of the FoCo Cafe. She describes reading a suggested page on Facebook one day, and happening upon our page. Seeing that we are ALWAYS LOOKING FOR VOLUNTEERS to help in any way they can, she jumped on board! Interestingly enough, Jenni had previously envisioned opening her own similar cafe years before, but she never believed it to be possible. So when she saw that it is happening, she wanted to be a part of it! She aims to help the FoCo Cafe in many ways, by assisting the cafe in standard operating procedures in food maintenance and handling, food safety training for volunteers, as well as writing training programs.
Jenni's passion for non-profit work started when she was a child volunteering in food kitchens. She witnessed firsthand how difficult it was to see people go hungry, and she wanted to help combat hunger. Along with helping the FoCo Cafe, Jenni also works closely with the Fort Collins Food Rescue. In addition, she dreams to someday open up her own commissary kitchen where community members can come make food from local sources.
The importance of sitting down and enjoying a healthy and delicious meal is a highly valued event to Jenni. She says, "I always want to have dinner with the kids and my husband. There is no other time available through out the busy day where you have everyone's undivided attention, it's only when you sit down and eat together." The conversation tends to be especially good when Jenni's family enjoys her husband's spaghetti and Italian sausage, she says it's the best meal she knows!
When asked to provide a metaphor for the FoCo Cafe, Jenni responded, "It's a big, round table with many different kinds of chairs around it." A poignant picture, there's no beginning or end to the table, no head for any one person to sit at to insinuate higher importance over anyone else at the table. Everyone comes to the table at the FoCo Cafe as equals, with their personalized chair (aka. history/background), which is what makes the Cafe such an essential community-builder/strengthener to the Fort Collins community.